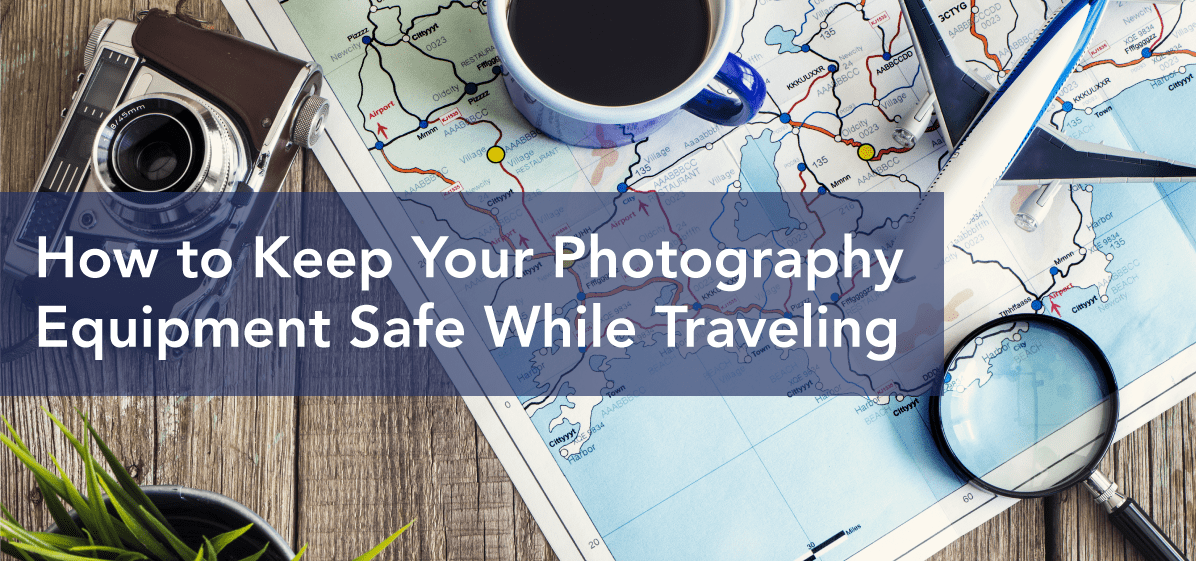 We don't know about you, but when we travel, we can't relax until we reach our destination and know that our photography equipment is safe. Whether we're traveling by train or plane, we're always a little worried that our gear is going to get jostled around and damaged in transit.
Because our cameras and lenses are our most prized possessions, we don't think we'll ever be able to stop worrying completely. But there are a number of things we do to feel more at ease when we travel with our photography equipment, including packing it in a bag with plenty of padding and stowing it nearby so we can keep a close eye on it. 
If you're an anxious traveler too, keep reading to learn the best ways to travel with camera gear!
Avoid Checking Your Gear
If you're traveling by train or plane, you should avoid checking your photography equipment at all costs. Baggage handlers are rough with checked luggage
—it's not uncommon to see them throw bags across the tarmac.
Your fragile cameras and lenses can't hold up to that kind of treatment, so don't put them in your checked bags. 
Instead, try to fit all your gear into the bags you're bringing on the plane or train. 
Choose the Right Bags

On airplanes, your carry-on can't be larger than
9 x 14 x 22 inches
, including the wheels and handles. If you're getting on a small airplane or flying international, the size limit may be even smaller, so check with your airline.
Size restrictions for personal items vary between airlines
. On American Airlines, you can bring a bag or backpack as large as 18 x 14 x 8 inches, whereas on United, your bag can't exceed 9 x 10 x 17 inches.
Check your airline's website to make sure the bag you plan on bringing isn't too big. 
On Amtrak trains, your two carry-ons can't be larger than 28 x 22 x 14 inches, and your two personal items can't be bigger than 14 x 11 x 7 inches.
Airlines are pretty strict about enforcing size restrictions, so you'll have to find bags that are big enough to fit your gear without going over the limit. We like the Think Tank Airport Series roller bags and backpacks. They're designed to fit in the overhead bins of planes and trains while still holding tons of gear
—e
ven the smallest backpack in the line has space for up to 10 lenses, 2 camera bodies, a laptop, and a tablet. 
Try to Adhere to Weight Restrictions
Most of the time, your bags won't get weighed before you board your plane or train. But it's still important to try to keep your bags under the weight limit. If you're unlucky and your oversized bag does get weighed, you'll probably have to check it, which is the last thing you want. 
Photography equipment is heavy, so it can be tough to keep your bags under the weight limit, which is usually 40 pounds on airplanes and 50 pounds on trains. Putting things that are less likely to get damaged like lighting equipment, cables, chargers, and hard drives into a checked bag can help you stay under. 
Buying lightweight luggage is also a good idea. Some hard-sided camera cases weigh over 10 pounds when empty, which eats up a lot of your weight allowance. You can easily find luggage that's several pounds lighter but still protective enough to keep your gear safe. 

That's ok as long as you have a backup plan. Airlines allow you to bring a jacket onboard at no extra charge, so we like to bring a photo vest as our jacket. If we have to check one of our bags full of gear, we can pull out most of our cameras and lenses and put them into the pockets of the photo vest. 
Pack Everything Properly
Even if your gear is stowed away safely in one of the overhead bins, it can still get jostled around a bit. You should always put extra padding in your bag to insulate your gear from rough flying conditions and bumps. 
We like to put our cameras and lenses in padded wraps to protect them from damage. You can also put padded camera inserts in your bag to insulate your gear, or use clothes as extra padding in a pinch. 
We also make sure all of our lenses and batteries are removed from our cameras before we pack them up. Keeping a lens on your camera while traveling can put stress on the lens mount, so we take the lenses off our cameras and put the body caps on instead. 

Camera batteries contain lithium and can be a fire hazard, so it's important to pack them up properly. We package each battery in a separate plastic bag and put them in our carry-on luggage. 
Stow Your Gear Nearby 
If you store your gear in one of the overhead bins of the plane or train you're on, someone could easily walk off with it. That's why you need to keep a close eye on it, especially when everyone disembarks. 
The best place for your camera bag is the storage compartment that's one row ahead of you and across the aisle from you. It gives you a much clearer view of your bag than the storage bin above your head and allows you to watch your gear the whole time. 
Someone might try to reach into your bag and steal your gear in the middle of the flight or train ride, so stay vigilant! Put a lock on your bag too for extra protection from thieves.
Insure Your Photography Equipment 
No matter how many precautions you take, there's still a chance that your gear will get stolen or damaged while you're traveling, which is why you should insure it. 

Make sure your policy has a high enough single item limit to cover the cost of each camera and lens and protects you if your items get lost, damaged, or stolen. 
If you have more expensive gear, you might have to add a rider to your travel insurance policy or purchase photography insurance to get adequate coverage. 
You can also insure your gear by joining Professional Photographers of America. For a low monthly fee, you'll get up to $15,000 of equipment insurance and access to their online learning programs and resources for photographers. 
Get Your Film Hand Checked
Traveling with film presents its own unique set of challenges, especially at the airport. Airport scanners can damage film, so it's important to ask airport security to hand check your film. 
Not all airports will honor your request, especially international ones. If this happens, don't panic! It's unlikely that your film will get damaged just by going through the scanner once or twice. As long as your film isn't high speed or instant, it should be fine. 
If you're traveling with a type of film that's extra susceptible to damage like high speed, you can get a lead bag to reduce the chances that the scanner will fog it up. 
One more thing to remember when you're traveling with film is never put your film, or a camera with film in it, in a checked bag. The scanners used on checked bags have a higher level of radiation that will almost certainly damage your film.
Traveling with your photography equipment doesn't have to be stressful. If you prepare for your trip by finding a protective, size compliant bag and pack up your cameras and lenses in padded sleeves, your gear will almost certainly make it to your destination safely. And even though the chances that your gear will get damaged are slim, insuring it will give you complete peace of mind so you can enjoy your trip. 
What do you do to prepare your gear for trips? Let us know in the comments section below!